​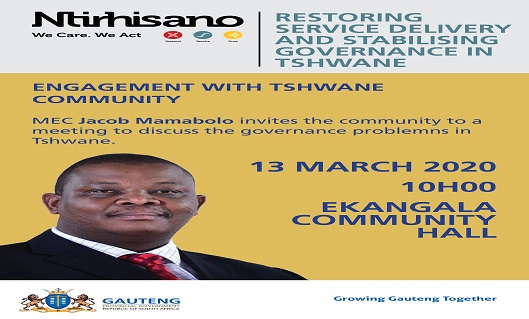 Restoring service delivery and 
stabilising governance in Tshwane
The Gauteng Provincial Government has a constitutional responsibility and obligation to the residents of Tshwane to create stability and ensure continuity of service delivery.  
Gauteng Premier, Mr David Makhura, has reiterated that the Guateng Provincial Government will intervene decisively in any municipality when service delivery grinds to a halt and residents are suffering.
The Gauteng Provincial Government has raised issues with the City of Tshwane Metropolitan Municipality over the past three years and these issues have not been attended to. Accordingly, the Gauteng Executive Council met on Wednesday, 4 March 2020, to assess the developments in the Municipality and decided to invoke section 139(1)(c) of the Constitution. 
The Executive Council decided to place the Municipality under administration for the following reasons:
Good governance has collapsed;
Disregard for the Municipal Finance Management Act (MFMA) and procurement processes;
Unauthorised, irregular, fruitless and wasteful expenditure flagged by the Auditor General; 
Constant irregular appointments of senior managers;
Supply of clean drinking water is severely compromised and refuse collection is at its worst; 
The collapse of the Municipal Council in the past six months has resulted in services not being rendered;
The Municipality has no Municipal Manager to approve contracts for Service delivery.
The Gauteng Provincial Government cannot stand by while governance collapses and service delivery is compromised. 
The decision to place the Municipality under administration is taken in the best interest of the people of Tshwane.
The Gauteng Provincial Government will appoint an administrator supported by a team of officials to urgently restore good governance and service delivery to the residents of Tshwane. The dissolution of the Municipal Council takes effect 14 days from the date of receipt of the written notice by the National Council of Provinces (ìNCOPî) unless it is set aside by the Minister of Co-operative Governance and Traditional Affairs or the NCOP before the expiry of those 14 days.